Electronics (RoHS / WEEE)
Compliance with the RoHS and WEEE directives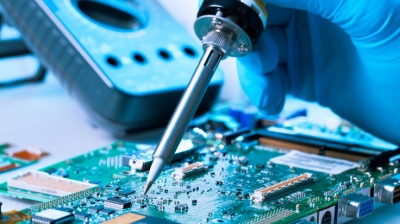 The Energy Dispersive X-ray Fluorescence (ED-XRF) spectrometers offer efficient solutions for the analytical requirements of the determination of regulated substances in electrical and electronic equipment according to the European Directive RoHS (Restriction of Hazardous Substances in Electrical and Electronic Equipment) and WEEE (Waste Electrical and Electronic Equipment).
The RoHS directive prohibits the use of hazardous metals such as cadmium, lead and mercury as well as hexavalent chromium and the brominated flame retardants containing PBB and PBDE. The WEEE directive simultaneously regulates the minimum quotas for re-cycling and re-use of electrical and electronic waste, for which products containing low levels of harmful substances form an important prerequisite.
Xenemetrix Energy Dispersive X-ray Fluorescence (ED-XRF) RoHS Vision
Are the simplest, most accurate, non-destructive and economical analytical systems. The fast quantitative analysis allows manufacturers to comply with the new regulations, while automatically identifying the matrix components and selecting optimal acquisition parameters for samples of various matrices, thicknesses and sizes. RoHS Vision fully complies with the latest RoHS 2 2011/65/EU directive while being ready for future regulation updates and upgrades.
Compatible Systems For Electronics (RoHS / WEEE):